Lizzie Nunnery and Vidar Norheim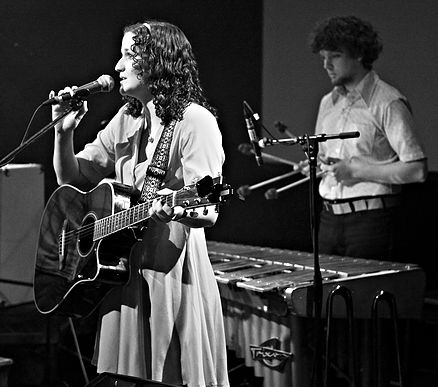 Lizzie and Vidar's first album Company of Ghosts was nominated for Best Debut in the Spiral Earth Awards and Radio 2′s Mike Harding listed it in his top 10 albums of the year. In 2012 they released their acclaimed second album Black Hound Howling, bringing together ballads of apocalypse with anti-capitalist anthems and beat poetry. Now they return with their politically charged EP: Songs of Drink and Revolution.
 
Lizzie has played across the UK and in 2012 performed at Liverpool Philharmonic Hall and Belfast Waterfront Hall with The Irish Sea Sessions. She is also an award winning playwright.

Vidar has toured worldwide as a member of Liverpool's alt pop unit Wave Machines and works extensively as a jazz and folk musician. In 2011 he was named as Norway's most promising song writing talent.
'It's hard to imagine a record more original from any emerging artists.'
Clive Pownceby, Folk North West on Black Hound Howling
'This multi-talented songstress is evidently one of the great new voices of British folk.'
Eleanor Dickinson, The Journal
'Rebel folk endures and develops uniquely – just listen to Lizzie Nunnery.'
Ed Vulliamy, The Observer
'A couple of really, really fine albums…very thoughtful, deep and interesting songs.'
Mike Harding on Company of Ghosts and Black Hound Howling
Folk On The Dock has been shortlisted in the Liverpool City Region Tourism awards for "Large Tourism Event of The Year"